What to See
The West Kennet Long Barrow lies on a crest of a hill amidst scenic farmland. There is a nice view of nearby Silbury Hill from the barrow, which is reached by a 1/2-mile sloping footpath on grass and clover.
At 328 ft (100 m) long, West Kennet Long Barrow is the second-longest barrow in Britain. (East Kennet Barrow is longer.) The stone burial chambers begin at one end and extend only 40 ft (12 m) into the barrow. The rest of the barrow is composed of sarsen boulders and chalk,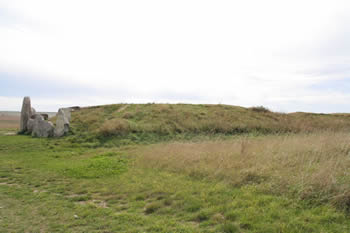 quarried from two parallel ditches that run along each side of the mound. The ditches are now mostly filled in, but were originally 12 ft (3-4 m) deep.
The stone chambers are now fully excavated and empty, but the construction of the five chambers remains fully intact. Small skylights of thick glass have been built into the ceiling, allowing for dim lighting of the tomb. Inside the entrance, a short passageway leads to two chambers on the left, two chambers on the right, and a larger chamber at the end.
Visit Wiltshire Links

Woodhenge
Burial Mounds
The Avenue
Normanton Down
Avebury Stone Circle
Silbury Hill
Chalk Hill Figures
West Kennet Long Barrow
Crop Circles
Old Sarum Hillfort
Salisbury City and Cathedral