Normanton Down

Neolithic / Bronze Age Barrows
South of Stonehenge, Wiltshire OS Map Ref SU116413
OS Maps - Landranger 184 (Salisbury & The Plain), Explorer 130 (Salisbury & Stonehenge)



This large g

roup of barrows just south of Stonehenge is one of the most important Neolithic and Bronze Age barrow cemeteries in the country. It consists of four long barrows and over twenty five round barrows - being a mix of bowl, bell, disc and saucer barrows. The most famous of these is a bowl barrow measuring 15 metres in diameter and
nearly 2.5 metres high known as the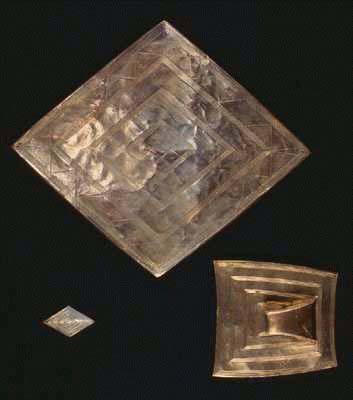 Bush Barrow. Excavated in 1808 by Sir Richard Colt Hoare and William Cunnington, it contained some of the richest grave finds in England. Their report states -
' On reaching the floor of the barrow, we discovered the skeleton of a stout and tall man lying from south to north: the extreme length of his thigh bone was 20 inches. About 18 inches south of the head we found several brass (i.e. bronze) rivets intermixed with wood and some thin bits of brass nearly decomposed. These articles covered a space of 12 inches or more; it is probable therefore that they were the mouldered remains of a shield. Near the right arm was a large dagger of brass and a spearhead of the same material, full 13 inches long, and the largest we have ever found.
Immediately over the breast of the skeleton was a large plate of gold, in the form of a lozenge and measuring 7 inches by 6 inches. The even surface of this noble ornament is relieved by indented lines, checks and zigzags, forming the shape of the outline, and forming lozenge within lozenge, diminishing gradually towards the centre. We next discovered, on the right side of the skeleton, a very curious perforated stone, some wrought articles of bone, many small rings of the same material and another lozenge of gold. As this stone bears no marks of wear or attrition, I can hardly consider it to have been used as a domestic implement, and from the circumstances of it being composed of a mass of seaworms or little serpents, I think we may not be too fanciful in considering it an article of consequence.'
Many of the other barrows in this group also contained grave goods including amber beads, amber pendants, gold beads, cups, bronze daggers, bronze pins, a perforated swan bone that could have been a flute, lignite rings and shale beads.
Visit Wiltshire Links

Woodhenge
Burial Mounds
The Avenue
Normanton Down
Avebury Stone Circle
Silbury Hill
Chalk Hill Figures
West Kennet Long Barrow
Crop Circles
Old Sarum Hillfort
Salisbury City and Cathedral