Many archaeologists believe Stonehenge was an attempt to render in permanent stone the more common timber structures that dotted Salisbury Plain at the time, such as those that
Get into the Mind of the Ancient Britons
What did our ancient ancestors see, hear or even smell? Find out with this guide. Ideal to print off and take to an ancient site.
Download PDF - click here

stood at Durrington Walls. Modern anthropological evidence has been used by Mike Parker Pearson and the Malagasy archaeologist Ramilisonina to suggest that timber was associated with the living and stone with the ancestral dead amongst prehistoric peoples. They have argued that Stonehenge was the terminus of a long, ritualised funerary procession for treating the dead, which began in the east, during sunrise at Woodhenge and Durrington Walls, moved down the Avon and then along the Avenue reaching Stonehenge in the west at sunset. The journey from wood to stone via water was, they consider, a symbolic journey from life to death. There is no satisfactory evidence to suggest that Stonehenge's astronomical alignments were anything more than symbolic and current interpretations favour a ritual role for the monument that takes into account its numerous burials and its presence within a wider landscape of sacred sites. Many also believe that the site may have had astrological/spiritual significance attached to it.
Support for this view also comes from the historian of religions, Mircea Eliade, who compares the site to other megalithic constructions around the world devoted to the cult of the dead (ancestors).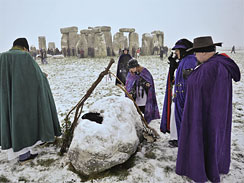 "Like other similar English monuments [For example, Eliade identifies, Woodhenge, Avebury, Arminghall, and Arbor Low] the Stonehenge cromlech was situated in the middle of a field of funeral barrows. This famous ceremonial centre constituted, at least in its primitive form, a sanctuary built to insure relations with the ancestors. In terms of structure, Stonehenge can be compared with certain megalithic complexes developed, in other cultures, from a sacred area: temples or cities. We have the same valourisation of the sacred space as "centre of the world," the privileged place that affords communication with heaven and the underworld, that is, with the gods, the chtonian goddesses, and the spirits of the dead."
In addition to the English sites, Eliade identifies, among others, the megalithic architecture of Malta, which represents a "spectacular expression" of the cult of the dead and worship of a Great Goddess.
Dr. Anthony M. Perks, a retired professor of obstetrics and gynaecology at the University of British Columbia and Darlene Marie Bailey offered "a theory based on the resemblance of the henge to the human vulva, with the birth canal at its centre" - "Because Stonehenge was a place of life and birth, not death, a place that looked towards the future". Dr. Perks and Darlene Bailey's "Earth Mother and Sun Father" theory is commonly referred to as Stonehenge "human vulva" or "birth canal" theory. When viewed aerially, Stonehenge does somewhat represent the petals of a flower (a long-used symbol for the vagina).